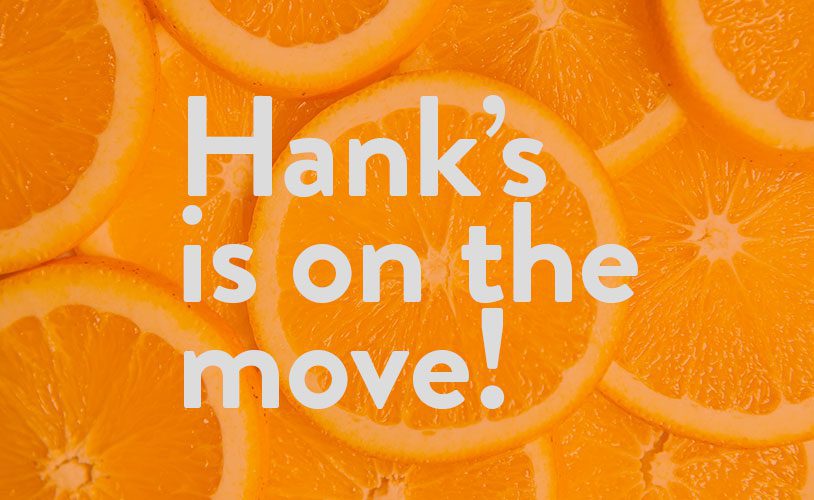 We're excited to be moving to our new kitchen in Mona Vale. While we move, no orders will be actioned from the 28th of October through to the 8th of November when we'll fire up the kettles again.
Our new kitchen is at
1/8 Willmette Place
Mona Vale
NSW 2303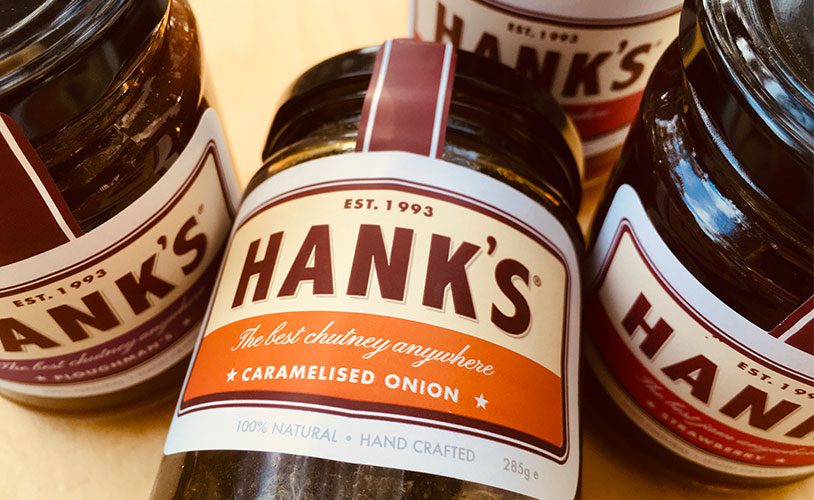 We've been busy cooking up a refresh of our labelling. Designed as a result of the new labelling laws from July 1 2018, the labels need to state the country of origin. The new labels will reveal where products are produced, grown, made and packed, as well as what percentage of the ingredients come from Australia.
According to the Government, it's been introduced to help Australians better understand what they are buying.
So we took the opportunity to freshen up our brand at the same time, tackling the retail 285g jars first off. We'll be working through our range over the coming months. Keep an eye out at your local Stockist for the new look.
But remember it's still the best jam anywhere….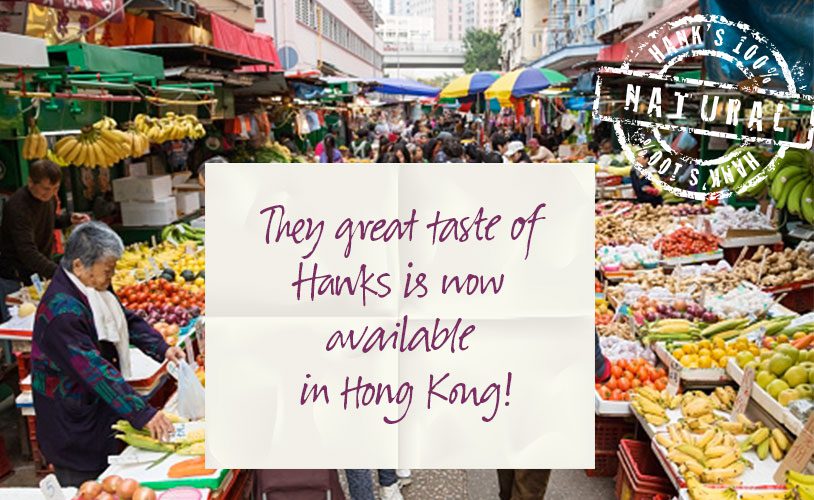 For Enquiries please contact Sally.Spence@asian-link.com.hk
Great news! We are excited to be one of the great Aussie products chosen to be part of SBS's new Food Network launch.
Caring Canary caringcanary.com.au were delighted to feature Hank's Jams in a range of bespoke gourmet gift packs that were presented to guests at SBS's Food Network launch. Caring Canary gifts and care packages contain premium, artisan, Australian made products, and Hank's Jams were a perfect fit. "We love the fact that Hank's Jams are handmade with love, and we look forward to including Hanks products in more Caring Canary gifts and care packages in the future."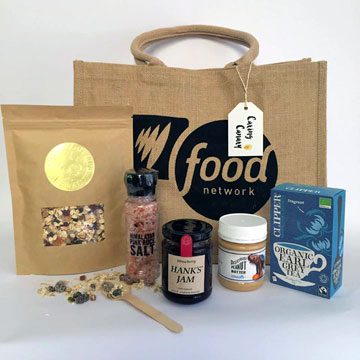 It's not every day the Postman delivers a lovely message from our Prime Minister Tony Abbott. We were very excited to receive such a lovely accolade from our PM. We think he might be a secret Hankster?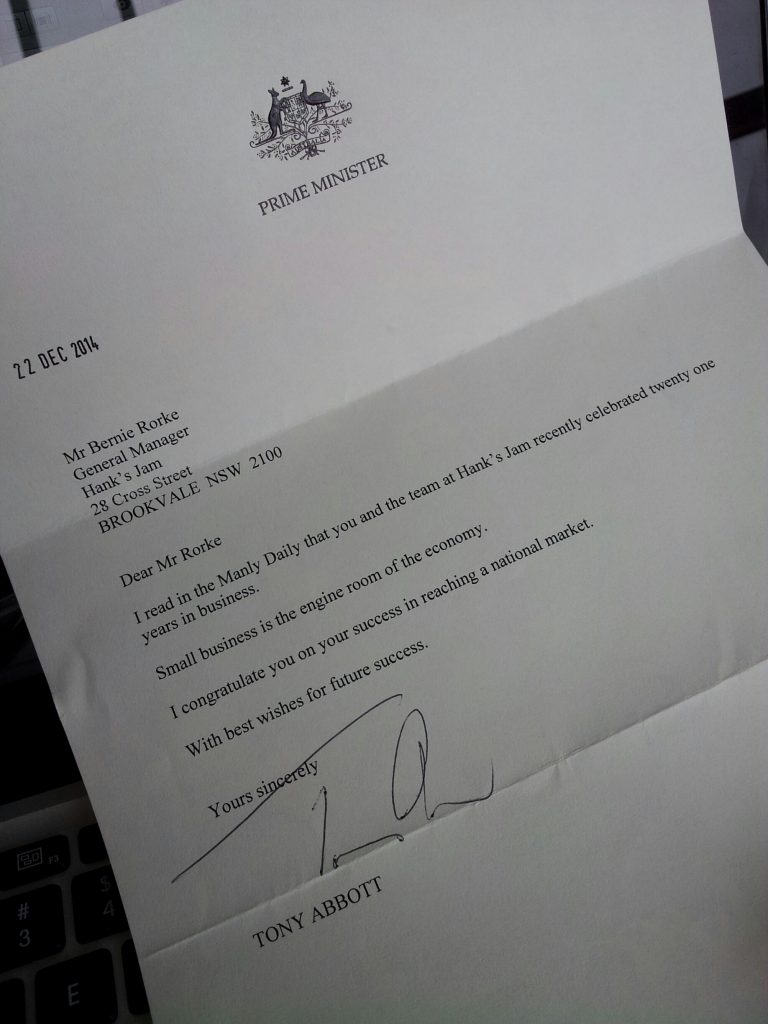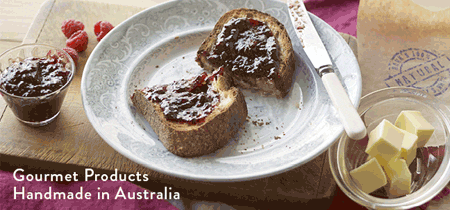 From humble beginnings in an inner city cafe, Hank's has come a long way to celebrate our 21st birthday and we are celebrating with our brand spanking new website which we hope you will enjoy.
Hank's started way back in 1993 by a dedicated chef who just decided to become a jam making machine. Said chef, Hank, simply could not find decent jam and thought 'it can't be that hard to make good jam'. So make jam he did. Hank stewed and boiled and stirred pot after pot until his customers were raving about his preserves. So much so, that his jams got a reputation in the local area and neighbouring cafes just had to have Hank's jams.
And so Hank's began and grew and grew by word of mouth and simply amazing tasting, authentically made jams and chutneys.
Now, in 2014, Hank's has a cult following of avid supporters around Sydney and beyond including gourmet cafes and restaurants, 5 star hotels and Australia's own airline. We look forward to sharing with you our stories, delicious recipes and our favourite places to enjoy Hank's on our clever new website.
If you would like to keep up to date with the latest from Hank's including delicious recipes and opportunities to win Hank's products, sign up here to become a Hankster!
Stay posted!
Hank's Team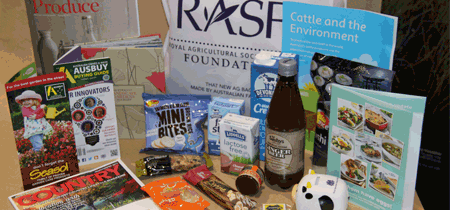 Hank's is proud to support worthy charities and this year we are supporting the Royal Agricultural Society Foundation.
The RAS Foundation provides grants, scholarships and awards to help men, women and children in rural communities to realise their potential, make a difference and achieve their ambitions.
Hank's supported the RASF at the Royal Easter Show 2014 by supplying our mini jams to be included in the RAS showbag.  Money made from this showbag is used to support rural communities throughout Australia.  Good luck RASF!