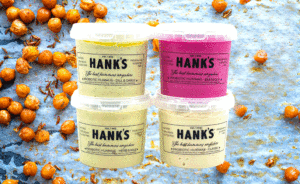 Hank's is very excited to announce the upcoming launch of our new Probiotic Hummus.
Delicious, and good for your gut!
Andrew, from Hank's Jam and Natalie, from Momma Kombucha, have been working closely to recreate her pure, healthy and good-for-you probiotic hummus range. These hummus are made with pure ingredients, and are preservative, additive and flavouring free, only made with fresh, local ingredients and of course, Momma Kombucha's, kombucha.
Our Kombucha is alive with good bacteria that helps your gut health.
Hank's Probiotic Hummus is made the way it has always been made by Momma Kombucha, which it is loved and renowned for.
Hank's will shortly be launching the best selling flavours Dill & Garlic,
Herbs & Kale, Classic Original and Beetroot. These hummus are tangy, delicious and a great compliment to any sandwich, wrap, salad, or just enjoyed with a stack of crackers.
Be sure to look out for Hank's Probiotic Hummus on the shelves soon.
For more information and images please contact Hank's Foods directly here.
Download the Media Release